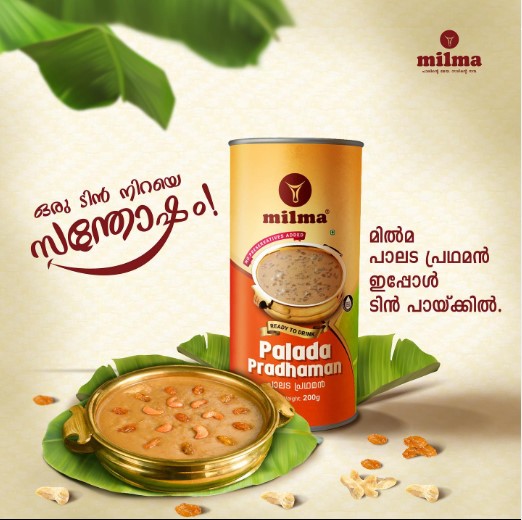 Dec 21, 2022
MILMA PALADA PAYASAM RECIPE
By: Shilpa
Payasam or Pradhaman is malayali's favorite dessert. Payasam is normally consumed on almost all occasions. Onam is the most important of them. Different varieties of payasams are prepared and served as part of the Onasadhya. Cravings for yummy and delicious payasams never end with Onam festival. It is also consumed as a popular dessert during weddings, celebrations, naming ceremonies etc. Payasam has a long legacy of 2000 years. The history of Payasam originates from the story " The Legend of Chessboard". Many travelers like Alexander and Ibn-e-Battuta had fallen in love with this delicacy when they came to India on their voyage. Payasam is prepared in households occasionally to satiate the cravings at times. Let's see how this is prepared with Milma's ingredients
Ingredients
⅓ Cup Palada( Rice Ada)

Chopped Cashew Nuts - 1 Tbsp

Raisins - 1 Tbsp

Milma Milk - 2 cups

Sugar - ¼ cup

Milma Ghee - 2 tsp

Cardamom powder - ¼ tsp
Preparation Time : 10 to 15 mins
Cooking Time : 30 mins
Serves - 4 serves
Nutritional Information: One serving has 408 Calories with 174 calories carbohydrate, 44 calories proteins 130 calories fat.
Instructions
For 10 minutes, soak Rice Ada or Palada in warm water.

After a few minutes, the rice ada will swell and now drain the water and rinse the ada in cold water for 3-4 minutes.

Add

2 tsp of Milma Ghee in a pan and add cashew nuts and raisins to it and roast it till it turns golden brown. Remember to roast cashew nuts and raisins separately.

Now place a heavy bottom kadai or a non-stick pan and add Milma Milk, sugar, cardamom powder and soaked ada. Now stir them and cook them on a medium flame till it boils.

After the mixture is boiled, lower the flame and then stir it and cook again for 15 minutes in medium flame or until the mixture turns thick and soft. Remember to stir the mixture continuously without stopping, otherwise the mixture may get burnt.

Now add some more sugar after tasting the palada mixture ( if needed) and then turn off the flame. Now transfer the mixture to a bowl and garnish the mix with roasted cashews and raisins.

A very tasty and delicious Palada Payasam is ready.
Tips
Always remember to keep on stirring the mixture so that it doesn't burn.

Make sure that the ada is soft and cooked well.

Your payasam will get much tastier if you use Milma's Homogenised Toned milk. It contains 3% fats and 8.5% non fat solids.
Everything gets tastier with Milma. Milma Ghee and Milma milk add flavor, thickness, and softness to the payasam. Milma Palada Payasam Mix is a quick solution if you don't have time. It's an instant payasam mixture with all of the benefits of homemade payasam. Happy cooking.